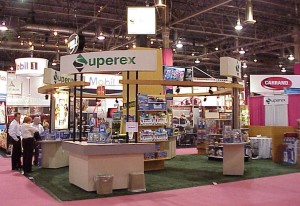 From assisting our customers in acquiring premium booth space locations through our relationships with show association personnel, to storing our customer's exhibit back into our heated, bonded exhibit care facility after a successful event, The Show Masters provides service and care through every step of trade show and corporate event exhibiting and image and product presentation.
Processing of paperwork for booth utilities for the booth at showsite
Customer-chosen carpeting & booth furniture procurement
Exhibit materials inspection & preparation at our care facility prior to shipment
Monitoring of exhibit load-in and arrival at show booth space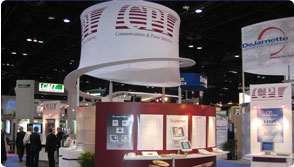 Efficient exhibit installation; structural setup, lighting & on-site graphics applications, utilities (electric/phone/internet/plumbing) placement & function-check
Booth wipe-down; plastic cut & carpet vacuumed
Placement of all booth amenities; furniture, floral embellishment, etc.
Assist customer with display product set-up and prepare product pallets for empty storage at event
Early morning cleaning & vacuuming prior to each exhibiting day
Meet with client at close of show, assist with display product pack-up, allow customer to leave the show shortly after exhibiting hours end and prepare for exhibit dismantling
Efficient dismantling and pack up of all exhibit materials
Prepare, produce and affix all outbound shipping documents & labels
Receive exhibit materials back at exhibit care facility, inspect for damage. If any materials and crates are damaged; Fix any damage immediately. If not, place materials back in designated exhibit care facility space. Separate, repack if necessary, and load out all display product and materials for shipment back to customer as per request.
For More The Show Masters services, Please see the About Us Page.